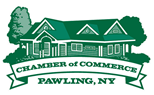 TOGETHER WE CAN WORK FOR THE FUTURE SUCCESS AND GROWTH OF PAWLING! 
We hope that you are doing well. We would like to share the planned events that will provide a boost to the Pawling economy in a safe and productive fashion. We would like everyone to participate.
Many of our annual events were cancelled.  As we now prepare for the upcoming year, we want to ensure that you are included and take advantage of these events, including the Pawling Car Show, Garage Sale, Annual Tree Lighting and Champagne Stroll.
Take this opportunity to join the team of businesses, organizations and individuals who share the common interests and goals for Pawling's growth and success.
As a member of the Chamber you will be able to present your business and network with colleagues at our General Meeting for Members and promote your business with articles on the Chamber's Website and Facebook. 
Your business listing in the new 2022-2023 Guidebook, on our Website (www.pawlingchamber.org), and your business promotions on Facebook are free. Don't forget our Gift Certificate programs which continue to be offered.
Join us and become a part of the continued growth and future of Pawling as a member of the Pawling Chamber of Commerce.