Friday, December 6, 2019 - 5pm
Give A "Cheer" to Pawling's Annual Tree Lighting Event, Friday, December 6,  2019, starting at 5:00 PM.
All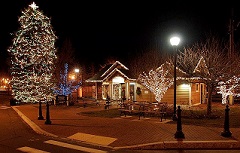 Pawling's families and friends are invited to eat, drink and be merry while enjoying the evening's festivities.
Sing along with the Pawling High School's Band and Chorus. Taste the Hot Chocolate from Trinity-Pawling School, the Cookies from Hannaford Bros., the Hot Soups from The Grand and the Hot Dogs from the Central Baptist Church of Pawling.  Join the Countdown for the Lighting of the Christmas Tree and the arrival of Santa and his Elves on the Horse Drawn Wagon (a limited number of wagon rides will be available after Santa's arrival).  Children and families may visit Santa and his elves to receive small gifts.
The program will include special guests and dignitaries from the Village, Town and County, the PCSD schools' musicians and chorus, volunteers from the Chamber, the Sheriff's Department, Pawling Volunteer Fire Department and Fire Police, Constables and Village Crew. Please join our "Thank You" to all the volunteers and participants who make this annual Pawling event so special with your generous contribution and check payable to:
Pawling Chamber of Commerce
2019 Tree Lighting
P.O. Box 19, Pawling, NY